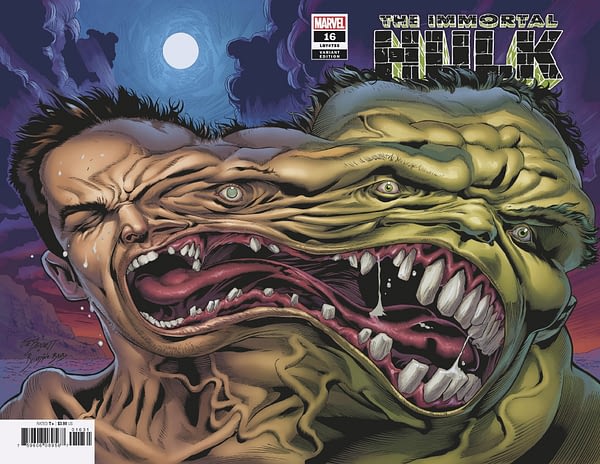 Nas estatísticas de abril de 2019 do
Diamond Comic Distributors
, eles fazem uma leitura bastante interessante. Assim como a Marvel Comics ganhava 50% de participação, The Immortal Hulk # 16 tinha pedidos mais altos que Batman # 68 e # 69. Desde a reinicialização / relançamento dos New 52, ​​a HQ do Batman publicada duas vezes por mês como a mais antiga da DC Comics, sempre esteve no topo das paradas, sendo apenas superada pelo lançamento ocasional de uma primeira edição, ou de minisséries como Secret Empire, Metal e The Batman Who Laughs. Para uma edição regular de uma série em andamento no topo, Batman é algo inédito. Até chegar The Immortal Hulk.
Nos indicados ao Eisner para este ano, Immortal Hulk de Al Ewing, Joe Bennett e Paul Mounts recebeu elogios em toda a indústria desde o seu lançamento, reinventando os quadrinhos como um título de horror, incorporando a história inconsistente e amplamente variada do personagem ao longo das décadas, reescrevendo a mitologia para si mesma, assim como o estado atual do universo Marvel, enquanto se movia para uma linda e emocionante história em quadrinhos. O
Bleeding Cool
tem repetidamente elogiado a série por todas essas conquistas. Ela vem se mantendo nas vendas, já que edições passadas continuam a se esgotar e assim partindo para novas reimpressões. As primeiras edições estão atualmente em suas quintas reimpressões, enquanto os especuladores especulam como serão com as próximas edições.
Immortal Hulk # 16 tinha uma capa de 1:25 que se mostrou muito popular e pode ter impulsionado os lojistas a aumentarem as suas encomendas enquanto que o título do Batman teve uma queda pós-não-casamento onde a atual história de Knightmares não provou sua popularidade, pelo menos por edição. E agora Batman mergulha na tão aguardada história City Of Bane com Tom King e Tony S Daniel como parte do Ano do Vilão da DC.
Mas é uma conquista extraordinária nesta era. The Immortal Hulk # 17 sairá nesta quarta-feira. Eu me pergunto o que vai vender mais?
IMMORTAL HULK # 16 BENNETT VARIANTE
(ROTEIRO) Al Ewing (ARTE / CAPA) Joe Bennett
• Há muito tempo atrás, Rick Jones era o melhor amigo do Hulk. Agora Rick Jones está morto ... e foi embora.
• Para saber por que, Bruce Banner terá que enfrentar experimentos gama enraivecidos, um assassino que quer seu sangue ...
•… e a única coisa que pode prender o IMORTAL HULK.
Classificação T+ à venda nas lojas especializadas: 03 de abril de 2019 SRP: $ 3,99
IMMORTAL HULK # 17
(ROTEIRO) Al Ewing (ARTE) Joe Bennett (CAPA) Alex Ross
• Bruce Banner está preso dentro do Shadow Base Site A - impotente e caçado por seu principal assassino.
• Ele não pode correr para sempre. Ele não pode mudar de forma. Ele não pode sobreviver ... sem o IMORTAL HULK.
• Mas não aquele que você pensa.
Classificação T+ à venda nas lojas especializadas: 15 de maio de 2019
SRP: US $ 3,99